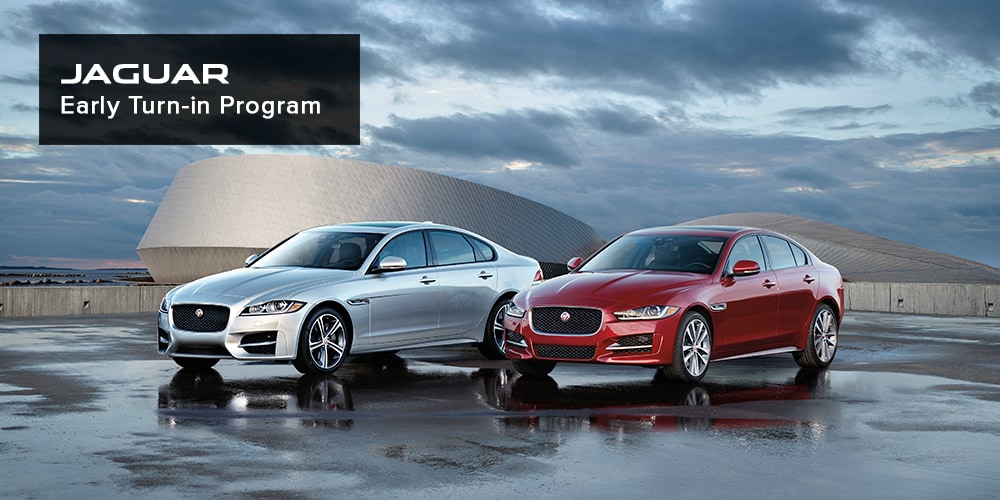 PROGRAM DESCRIPTION
The Jaguar Early Turn-In program will help transition you into a new Jaguar sooner. With this program, eligible customers can end their lease early and Jaguar Land Rover will help pay early termination charges, under your current lease - up to the amount of your remaining monthly payments.
ELIGIBILITY
Lessees who have active JLRFG leases (any MY14 through MY17 Jaguar vehicle) with maturity dates between February 1, 2019 and August 1, 2019, who return the leased vehicle before final payment is due, and, at the same time, lease or finance a New or Out-cycled MY18 or MY19 Jaguar or vehicle through JLRFG.
ADDITIONAL XF AND XJ INCENTIVES
 Disposing:
  Acquiring:
 Incentive:
 XF
 XF
 $3,000
 XF
 XJ
 $5,000
 XF
E-PACE or

F-PACE

 $1,000
 Disposing:
 Acquiring:
 Incentive:

 XJ
 XF
 $3,000
 XJ
 XJ
 $5,000
 XJ
 E-PACE or

F-PACE

 $1,000
PROGRAM SPECIFIC NOTES
- Eligible Lessees are responsible for any balance owed in excess of the three (3) monthly payments for the following models:
- Jaguar: XE, XF, XJ, F-PACE & F-TYPE
- The Early Turn-In vehicle must be grounded 31 days before the maturity date.
-  Customer must finance their New or Out-cycled vehicle through Jaguar Land Rover Financial Group (JLRFG).
- The customer is responsible for any remaining early termination liability after applying the payment from Jaguar Land Rover. The payment from Jaguar Land Rover doesn't cover accrued late fees, property taxes, and parking citations.
- In lieu of this program, returned lease vehicles can be purchased by the retailer through the lease payoff process.
- Any returned lease vehicles that are not purchased at the lease payoff must be grounded on LandRoverPrivateLabel.com or JaguarPrivateLabel.com to receive the Early Turn-In benefit.
- Business contracts are eligible for the Early Turn-In Program.
- Single Pay leases are excluded.
- The Early Turn-In Program can't be used toward any delinquency balance. Customers who are delinquent may not be eligible for the program until their delinquency is resolved.
- Customer Lists are available on JBN and InfoTrail as of January 1, 2019.
Make an Inquiry
* Indicates a required field